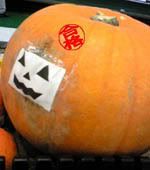 at least...
draw the face directly onto the pumpkin?


at least....
choose an orange paper????

wow.

The degree to which people can be lazy. I was actually tempted to buy this crappy Jack-o-lantern. (um...

Moving right along 8D

Finally got a chance to go to Jishuban during its shop hours.....

hazuki!!!!!!!!!! ヾ(;▲;)

...the photograph was great too. I love his tatoo XD

..though, mucc's FAZ was SO SO SO SO SO good that anything that comes after has a handycapp...